Well, kids, I have the next whole week off from school.
My main project this week will be to make a crib-sized quilt for Daughter #2 and SIL'S first baby, aka,
I mean, how hard can it be?
I always think that when I start a quilt.
And then it ends up taking at least 5 times as long as I think it will.
Does that ever happen to you?
Anyway, I think I'll use a pile of fat quarters for the top
and some of that darling monkey fabric for the bottom.
If all goes well, I will even have pictures of at least part of the process.
The last quilt I made was for Daughter #1's wedding, nearly 8 years ago.
It's like riding a bicycle, right?
Oh, and speaking of projects!
My DH has been refinishing a changing table for them, too.
It's the same one we got nearly 32 years ago.
Wow, that thing has seen a lot of ...
Will post pics of that, too.
I'm linking with a new-to me, at least-blog hop today.
Jen @ What's on my mind is our hostess for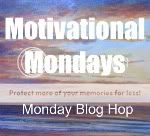 Thanks, Jen, for hosting us.
And now for Meet Me On Monday.
I just love this blog hop cuz I get to visit so many of you.
After reading your MMOM post, I peruse some of your older posts
and will often comment on those rather than the MMOM post.
I'm so impressed by the way you face life, meet challenges,
Thank you for sharing lives with me!
Click on her link to add your post and join the fun.
1. What jewelry do you wear 24/7?
I wear my wedding ring. Here's the 411 on it: The first Saturday in May, 1978,
was Kentucky Derby Day, about 7 weeks before our wedding. I remember because DH-fiance at the time-had promised we'd go out shopping for wedding rings that day. What I didn't know was that we had to watch the Derby
first.
Once I finally pried him away from the tv,
We went window shopping at several jewelers in our small town. What we saw was too traditional, so we went to the local
hippie hangout
artisan market. We met Bob, [this is the truth!] President of the **** County "Make Marijuana Legal" committee, who worked with us to refine our ideas for the rings. You can see mine
here
. We've never seen other rings that even closely resemble ours.
2. Do you twirl your spaghetti or cut it?
Holy smokes, how does one shovel get it into one's mouth, if one cuts it??
3. How many siblings do you have?
I have one little brother. You can find out how I feel about him here.
4. Were you named after anyone?
No. My Mom said that because she never liked her nicknames, she named me so that I wouldn't have any.
'Course my baby, the DH, calls me Kitten. Love that!
If I drink pop at all, which is about once every 6 months, it is full-on Coke.
Can't stand the diet stuff. blechhhhhh!
On another, totally unrelated note:
Many of you are familiar with Bakerella, inventor/queen of Cake Pops.
She has been in the hospital and is waiting to find out if her Mom will be a good kidney donor for her. Please keep her in your prayers.
www.bakerella.com
God bless your week!
Love,